About Masterclass
Students can access pre-recorded tutorials and lectures on the Masterclass platform, which is an American online education subscription service run by Yanka Industries, Inc., doing business as Masterclass.
David Rogier and Aaron Rasmussen worked together to establish the Masterclass concept.
Who Teach in the Masterclasses?
Filmmaker Martin Scorcese and advertising gurus Jeff Goodby and Rich Silverstein are just a few examples of famous people who have taught masterclasses.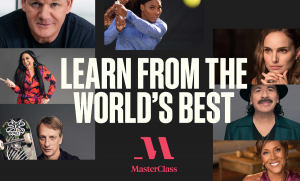 Classes
Online courses with well-known lecturers in their fields of expertise are produced by Masterclass.
Lessons include instruction in writing, exercise, and cooking.
In 2019, the business was branching out into the fields of politics, economics, and video game development.
While authors talk, many lecturers perform in-person demonstrations if the subject is simple to visualize.
The classes are accessible with an annual subscription.
Normally, the classes are not interactive, however at least one course had activities that required collaboration with other students, either in-person or over Skype.
For Whom Is the Masterclass?
The Masterclass is intended for authors, photographers, cooks, artists, musicians, painters, and other creatives. It's perfect for students who are content to study independently on a computer.
This market is intriguing. Numerous other online courses I've taken aid students in developing more practical skills like coding or the fundamentals of web development, as well as business skills like marketing. For those who do best in a classroom setting and appreciate lecturers who are more hands-on, Masterclass isn't the best option. (More to follow on that.)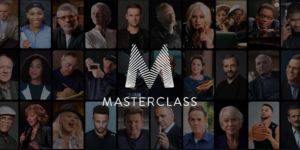 What is the price of Masterclass?
There are three different plan choices offered by Masterclass: Individual ($180/year), Duo ($240/year), and Family ($276/year). All programs need upfront full payment for a year. No monthly alternatives are available.
You have unlimited access to all of Masterclass's content with the Individual plan. The restrictions are that you can only stream Masterclass on one device at a time and that you have to stream it because you can't download the courses to watch them later.
Benefits of a Masterclass Subscription
You will get access to all Masterclass classes as well as any new ones if you purchase an annual membership subscription. Any Masterclass lesson may be viewed as many times as desired. Simply log in to your account, visit the class enrollment page for the course you wish to take, click "Take the Class," and then locate the enrollment pages by clicking on the instructor tiles.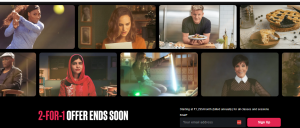 Pros
Affordable
Even though Masterclass is billed annually, the monthly cost is still reasonable given the quantity of programs you have access to.
Good Production
You will see how well-produced the Masterclass films are after watching the first one for just ten seconds. They exude a strong sense of the movie.
Top VIP Teachers
Of course, one of the main draws of Masterclass is the opportunity to master a skill from 150+ internationally renowned celebrities. You can learn from Chris Voss, who teaches the "Art of Negotiation," Brandon McMillian, who teaches "Dog Training," and many more well-known people.
Generous Policy for Refunds
You get 30 days to ask for a refund after purchasing a Masterclass membership subscription, which is actually quite good.
Engaging
Anyone can use Masterclass; no prior knowledge is required for the 180+ classes and 2500+ video lessons. They are interesting to watch and simple.
Cons
No Trials or Free Classes
Sadly, Masterclass doesn't provide any free courses or trials, so you won't be able to try any courses out before signing up for a membership.
Lack of certificates
Unfortunately, if you pass a Masterclass course, you won't get a completion certificate.
Absence of Reviews
On the webpage, there are some reviews left by former users. But there was nothing particular or regarding certain courses. You are consequently left without a thorough description of a former learner's experience.