Australians own and run the company Booktopia. In our 13,000 square metre headquarters and distribution centre in Sydney, we typically keep about 650,000 volumes that are prepared for shipping.
Our Sydney warehouse has more than 85% of the books that customers order on our website in stock. We obtain the other 15% of the titles from publishers and vendors all throughout Australia as well as by flying them over from the United Kingdom and the United States.
Specialties
Numerous local and foreign book titles, a tailored newsletter service, significant savings, excellent customer support, better content, eBooks, DVDs, and audio books, Australian, quick shipping, a book store, an online retailer, social responsibility, a philanthropic organization, a winner in awards, and a market leader.
Some Trending Books
Livid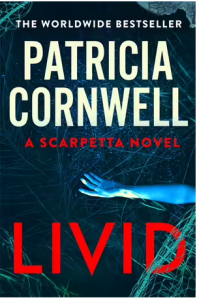 The new Kay Scarpetta thriller from the No.1 bestseller
By: Patricia Cornwell
Description:
The #1 Bestseller Returns, With a Brand-new Kay Scarpetta Thriller
Chief medical examiner Kay Scarpetta is the reluctant star witness in a sensational murder trial when she receives shocking news. The judge's sister has been found dead. At first glance, it appears to be a home invasion, but then why was nothing stolen, and why is the garden strewn with dead plants and insects?
Although there is no apparent cause of death, Scarpetta recognizes tell-tale signs of the unthinkable, and she knows the worst is yet to come. The forensic pathologist finds herself pitted against a powerful force that returns her to the past, and her time to catch the killer is running out . . .
'One of the best crime writers writing today' Guardian
'Astonishing . . . Thirty years on, there's still no other crime writer like her' Sunday Times
'America's most stimulating and chilling writer of crime fiction' The Times
Exiles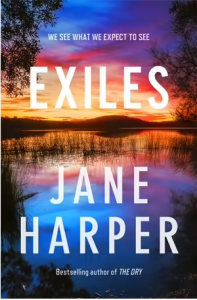 Aaron Falk Book 3
By: Jane Harper
Description:
At a busy festival site on a warm spring night, a baby lies alone in her pram, her mother vanishing into the crowds.
A year on, Kim Gillespie's absence casts a long shadow as her friends and loved ones gather deep in the heart of South Australian wine country to welcome a new addition to the family.
Joining the celebrations is federal investigator Aaron Falk. But as he soaks up life in the lush valley, he begins to suspect this tight-knit group may be more fractured than it seems. Between Falk's closest friend, a missing mother, and a woman he's drawn to, dark questions linger as long-ago truths begin to emerge.
About the Author
Jane Harper is author of the international bestsellers The Dry, Force of Nature, The Lost Man and The Survivors. Her books are published in forty territories worldwide, and The Dry has been adapted into a major motion picture starring Eric Bana. Jane has won numerous top awards including the Australian Book Industry Awards Book of the Year, the Australian Indie Awards Book of the Year, the CWA Gold Dagger Award for Best Crime Novel, and the British Book Awards Crime and Thriller Book of the Year. Jane worked as a print journalist for thirteen years both in Australia and the UK, and now lives in Melbourne with her husband, two children, and two cats.
Friends, Lovers and the Big Terrible Thing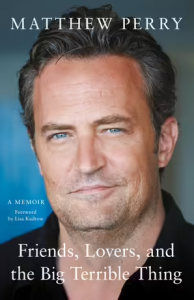 A Memoir
By: Matthew Perry
Description:
The beloved star of Friends takes us behind the scenes of the hit sitcom and his struggles with addiction in this candid, funny, and revelatory memoir that delivers a powerful message of hope and persistence.
'Hi, my name is Matthew, although you may know me by another name. My friends call me Matty. And I should be dead.'
So begins the riveting story of acclaimed actor Matthew Perry, taking us along on his journey from childhood ambition to fame to addiction and recovery in the aftermath of a life-threatening health scare. Before the frequent hospital visits and stints in rehab, there was five-year-old Matthew, who travelled from Montreal to Los Angeles, shuffling between his separated parents; fourteen-year-old Matthew, who was a nationally ranked tennis star in Canada; twenty-four-year-old Matthew, who nabbed a coveted role as a lead cast member on the talked-about pilot then called Friends Like Us. . . and so much more.
In an extraordinary story that only he could tell – and in the heartfelt, hilarious, and warmly familiar way only he could tell it – Matthew Perry lays bare the fractured family that raised him (and also left him to his own devices), the desire for recognition that drove him to fame, and the void inside him that could not be filled even by his greatest dreams coming true. But he also details the peace he's found in sobriety and how he feels about the ubiquity of Friends, sharing stories about his castmates and other stars he met along the way. Frank, self-aware, and with his trademark humour, Perry vividly depicts his lifelong battle with addiction and what fuelled it despite seemingly having it all.
Friends, Lovers, and the Big Terrible Thing is an unforgettable memoir that is both intimate and eye-opening – as well as a hand extended to anyone struggling with sobriety. Unflinchingly honest, moving, and uproariously funny, this is the book fans have been waiting for.
About the Author
Matthew Perry is a Canadian American actor, executive producer, playwright, and comedian.
Barefoot Kids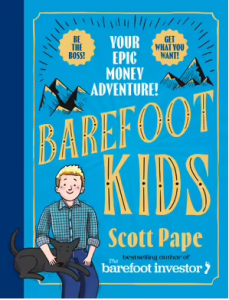 The new book from The Barefoot Investor
By: Scott Pape
Description:
The new book from the author of The Barefoot Investor, the #1 all-time Australian bestseller
If you want the kids in your life to be good with money, hand them this book.
Teaching kids about money isn't easy. So let Scott Pape, the Barefoot Investor, do it for you!
His books have sold millions of copies and counting … and now he's written a guide book you can hand straight to KIDS!
No, seriously: this is one book kids will WANT to read.
Scott takes them on an epic, page-turning money ADVENTURE – with fun projects, inspiring stories from 45 kids, rewards and real-life stickers.
It's easily the most unique finance book ever written. After all, how many books about money have Slime Queens, TikTok stars and dogs pooping on the page?
Kids will roll up their sleeves, get their hands dirty, and learn the value of a buck the old-fashioned way.
Over six action-packed steps, Scott teaches kids:
Why they should help out around the house for free
How to set up their own money buckets
How to SAVE for (and get) anything they want (that their parents approve of)
How to turbocharge their savings by running their own mini business
Why they should use their GIVE bucket to make a real difference to other people (kindness counts!)
How to kick-start a lifetime of compound interest by investing with as little as $5
As the parent, you'll call all the shots, of course – but you won't have to lift a finger. The kids will do all the work (and they'll love it!). You'll be blown away by what they achieve.
This book holds the secret to raising smart, resilient, kind and hard-working kids who will grow up knowing how to manage their money. Give this book to every kid you know. It's the best investment you can make in their future.
Similar to this,
Booktopia
carries a number of popular books. Enjoy your uninterrupted reading.